17.13'' Huge Breasts Vagina Anal Realistic Male Masturbator
---
Description:
This is a very sexy male masturbator. It is made of TPR material, which is very real and feels almost like real female skin. She has a sexy collarbone, you can try to put a necklace on her and treat her as your girlfriend. Two huge breasts, nipples tease you silently. Try to take out your dick, place it between the two breasts, and then hold the breast with both hands and rub the penis firmly. This feeling will definitely impress you. The slender waist and hips form an "S" curve. This must be a very beautiful girl! Her entire upper body leaned forward slightly, eager to be touched by you. Spreading her legs, gently stroked her labia and clitoris. Imagine she was moaning and eager for more. Put your hard cock into her vagina, and the realistic particles inside will rub the sensitive spots on your penis. Of course, if you are tired of the vagina, you can also enter her anus to find more fun. The ribbed tunnel inside the anus completely envelops your dick, you can try to find her P spot. If you don't have a girlfriend, this is indeed a very good choice for masturbation. You can even dress her up, put on erotic lingerie for her, and spend a beautiful evening together!

Specification:
Material: TPR
Size: 11.02*17.13 inch

Package included:
1 x Male Masturbator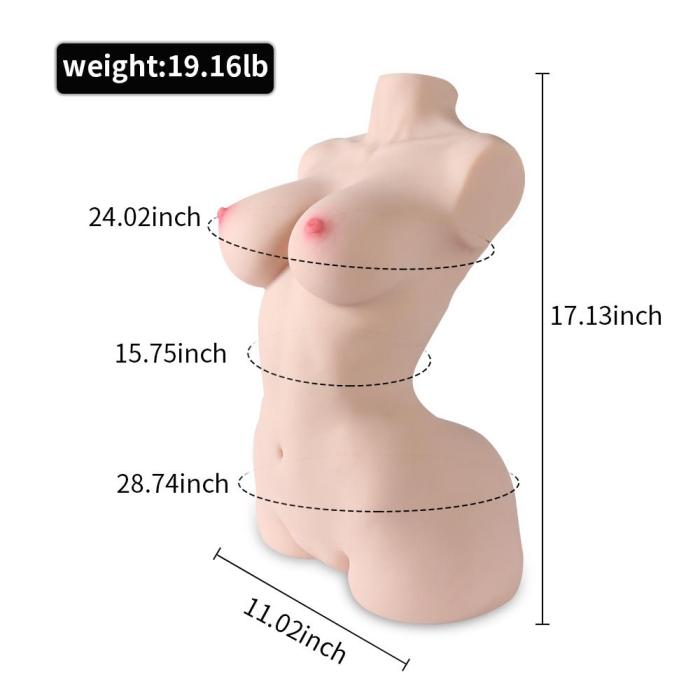 Experts for 15 years
At SexShopIt, we've been experts in sexual happiness for 15 years, and we believe pleasure is easy at hand.
Level up your sex game with premium selection of innovative sex toys for every gender identity: high-tech masturbation cups, multi-functional vibrators, diverse dildos, prostate massagers, realistic butts, penis pumps...
WHY CHOOSE US
Delicately Selected
All our sex toys are selected by pleasure experts with strict quality control and product testing. With weekly new arrivals, we give what's BEST to you.
Global Reputation
From the US to Germany, UK and Japan, we've gained over 100,000 happy customers with 4/5 Trustpilot satisfaction..
Keeps Innovating
Our product team with forefront market insights continue to bring you the latest, most diverse, and most surprising sex toys. Yes, we're down to the game!
Worry-free Guarantee
We offer a 30-day money-back guarantee and a 90-day warranty of your products. Your personal data is always safe with us.